5,000-year-old Bryde's Whale Skeleton Discovered in Thailand
An unusual, partly fossilized skeleton belonging to a Bryde whale, estimated to be about 5,000 years old, has been discovered by researchers in Thailand at an inland site west of Bangkok.
A skeleton weighing 12.5 meters (41ft), about the length of a truck, was discovered by a cyclist who saw some of the vertebrae coming out of the ground. Since then, a team of scientists has been excavating the site.
"This whale skeleton is thought to be the only one in Asia," said Pannipa Saetian, a geologist in the Fossil Protection division of the Department of Mineral Resources.
"It's very rare to find such a discovery in near-perfect condition," said Pannipa, estimating that about 90 percent of the whale's skeleton had been recovered.
"Then, we found the right shoulder and fin," she said, noting that about 36 backbone pieces had been unearthed. The bones needed to be carbon-dated to determine the exact age of the skeleton, she said.
Once the painstaking process of cleaning and preserving the fragile skeleton is complete, it will be exhibited.
Scientists hope the skeleton will provide more information to aid research into Bryde's whale populations existing today as well as the geological conditions at the time.
Bryde's whales, sometimes known as tropical whales for their preference for warmer waters, are found in coastal waters in parts of the Indian, Pacific, and Atlantic Oceans, including in the Gulf of Thailand.
Highly endangered, there are some 200 remaining whales in the South Pacific nation's waters, and about 100,000 worldwide.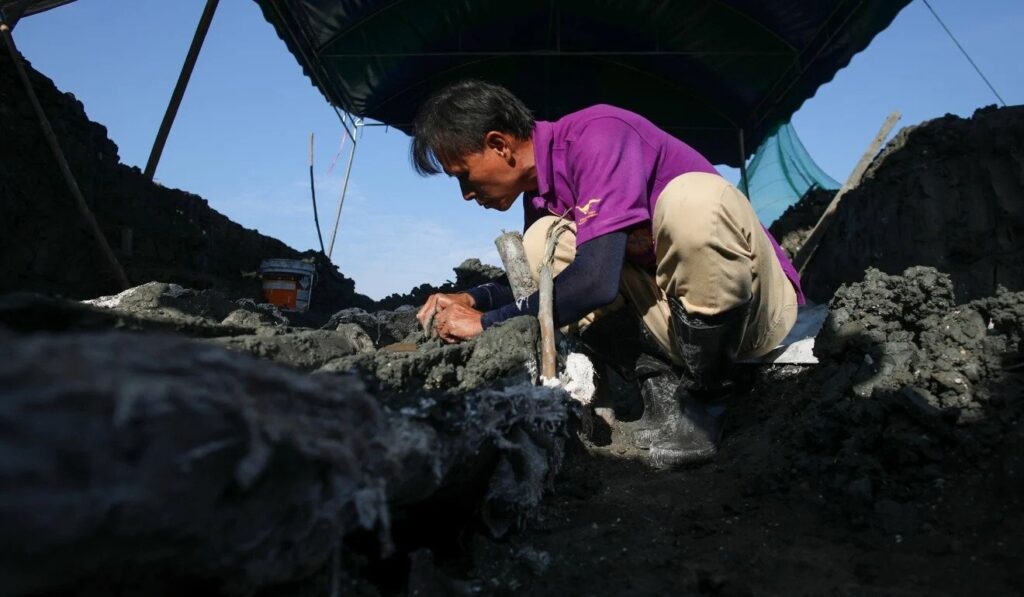 In 2016, New Zealand researchers gained insight into a pair of Bryde's whales feeding off an Auckland coast in one of the first uses of drone technology to study the animals.
The footage revealed an adult and calf frolicking in the water and using a "lunge" feeding technique to feast on plankton and shoals of small fish.
In 2014, a 10.8-meter-long whale thought to be a Bryde's whale, washed up at a remote beach in Hong Kong's New Territories.
Conservationists said it could have died at sea before drifting to the inner bay off Hung Shek Mun, in Plover Cove Country Park.