Dozens of Mummified Cats Found in 6,000-yr-old Egyptian Tombs
An Egyptian archaeological mission recently found dozens of cat mummies in seven Pharaonic Age tombs, some dating back over 6,000 years, at a site on the edge of the pyramid complex in Saqqara, south of Cairo.
It is the latest discovery in excavation work that began in April, according to antiquities minister Khaled el-Enany. The team also discovered a rare collection of mummified scarab beetles.
Three of the tombs were particularly used for cats. The felines held a special place in ancient Egypt and were mummified as religious offerings.
Cats were valued for killing poisonous snakes and were believed to have protected the pharaohs since at least the First Dynasty of Egypt.
Skeletal remains of cats have been found among funerary goods dating back to the 12th Dynasty.
One of the sarcophagi belonged to Khufu-Imhat, who was the overseer of the buildings in the royal palace.
Mostafa Waziri, head of Egypt's Supreme Council of Antiquities, said they had also uncovered the first mummies of scarabs to be found in this area.
"The [mummified] scarab is something really unique. It is something really a bit rare," Waziri said, according to The Guardian.
"A couple of days ago, when we discovered those coffins, they were sealed coffins with drawings of scarabs. I never heard about them before."
The relationship between Egyptians and cats is complex.
In a NPR interview, curator Antonietta Catanzariti said ancient Egyptians didn't worship cats. "What they did is to observe their behavior," she says.
People noticed that cats — especially big ones — were expert hunters. Also, cats were nurturing. "They're protective against their cubs for lions, or kittens for cats, as well as they are aggressive when it's necessary, kill if necessary," said Catanzariti.
The ancient Egyptians saw those characteristics as signs of divinity. They created gods and goddesses in their image. The Sackler show (which originated at the Brooklyn Museum) has 80 examples. Now, Egyptians had lots of animal gods and goddesses. "Crocodiles or snakes, dogs, bulls, mention it, you will have it," laughs Catanzariti.
But cats were the most important. The powerful cat goddess Sakhmet has the face of a lion and the body of a woman. She protected pharaohs in war. Once, according to the myth, her father the sun god sent her down to punish mortals for rebelling against him.
But her punishment was too harsh, so her father gave her a special drink. "She drinks and she transforms into a cat, which is more docile and peaceful, and humankind is saved," Catanzariti says.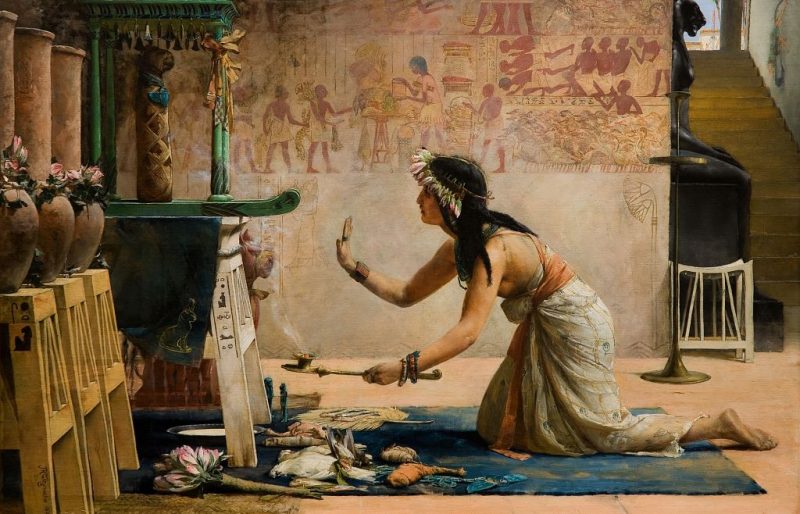 As for the cat goddess Bastet, she protected the home from evil spirits and disease, especially diseases associated with women and children.
Along with other Egyptian deities, Bastet played a role in the afterlife as a guide and helper to the dead although this was not one of her main duties.