"Nationally Significant" Bronze Age Treasure Sword Discovered in Scotland
The Bronze Age has been unearthed in Scotland. The land of Scots is famous for plenty of things – bagpipes, haggis, and some pretty fine whisky. But coming upon a cache of 3,000 year old antiquities? Not so much.
But that's precisely what happened not long ago when 44 year old Mariusz Stepien went out into a field with a metal detector, on the hunt for perhaps some old coins or a bit of 20th century jewelry.
Much to his surprise, his device began vibrating and signalling him that something big was not far underground. Sure enough, when Stepien began digging, he came upon a treasure trove of antiquities that are about 3,000 years old, from the Bronze Age.
He knew better than to gather up the finds himself, and instead called in experts from Scotland's Crown Office Treasure Trove Unit. Emily Freeman, the head archaeologist with the unit who went to investigate the find, recently told the BBC, "it's a nationally significant find."
After spending 22 days digging deep with the archaeologists, Stepien and the group found a sword still in its scabbard, chariot wheel axle caps, and an entire horse harness, along with a decorative rattle pendant that would have been placed on the harness, the only one like it ever found in Scotland.
Freeman enthused, "so few hoards have been excavated in Scotland," she explained to the BBC, "(that) it was an amazing opportunity for us not only to recover Bronze Age artifacts, but organic material as well."
It was that very organic material, she went on, that enabled artifacts made of leather and wood to even stay preserved all these centuries.
As for Stepien – he is extremely pleased that his hobby has turned up such a significant find. "I was over the moon," he said in an interview, "actually shaking with happiness…I've just discovered a big part of Scottish history."
What happens to the artifacts now? According to Freeman, they must all be thoroughly cleaned, catalogued and examined to learn why they ended up in this spot near Peeples.
The question for experts now is, why was this collection placed in this particular spot near Peeples? That is going to take a lot of detective work, but Freeman is thrilled to have the chance to investigate.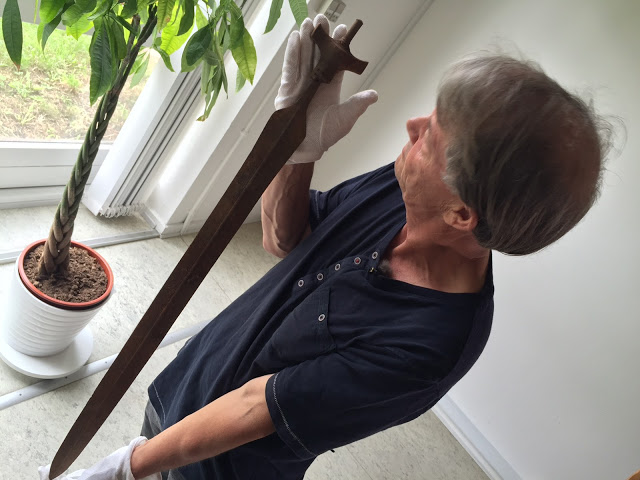 Right now, the experts suggest the sword dates back between 1,000 B.C. And 900 B.C. Other items need to be more thoroughly examined before dates can be affixed.
The Bronze Age is a period when man was quickly learning how to produce bronze and, more importantly, how to use it to make tools, weapons and other valuable items. Before it was the Stone Age; after it came the Iron Age.
In Britain, experts say the Bronze Age commenced about 2000 B.C., and lasted until around 750 B.C. Of course Scotland, England and other places that comprise the United Kingdom go back thousands of years, and plenty of history remains yet to be discovered under the soil in all those countries.