THE 2,000-YEAR-OLD HALLATON HELMET IS THE ONLY ROMAN HELMET EVER FOUND IN BRITAIN
At the British Museum, a silver-gilt Roman helmet of excellent quality and world value found as part of the Hallaton Treasure and ArtFunded in 2007 was returned to its former glory.
The discovery was purchased by the Leicestershire County Council for exhibition at the Harborough Museum and the helmet was restored and repaired with the expertise at the British Museum due to Heritage Lottery funding.
Discovery
Archaeologists who made the original discovery at Hallaton in Leicestershire, used to finding more glamorous gold and silver coins, joked they had found a fairly modern "rusty bucket". Little did they know at the time what a hugely significant archaeological find they had come across.
The "Hallaton Helmet" was found ten years ago by members of the Hallaton Fieldwork Group and professional archaeologists from the University of Leicester Archaeological Services who were excavating the remains of a 2,000-year-old Iron Age shrine.
The site appears to be a major religious center, having produced the largest number of Iron Age coins ever excavated in Britain and possible evidence of ritual feasting dating to the mid-1st century AD.
The finds from this site would later become known as the Hallaton Treasure.
On display
The helmet was too fragile to be excavated in situ so it was removed within a block of earth held together with plaster of Paris.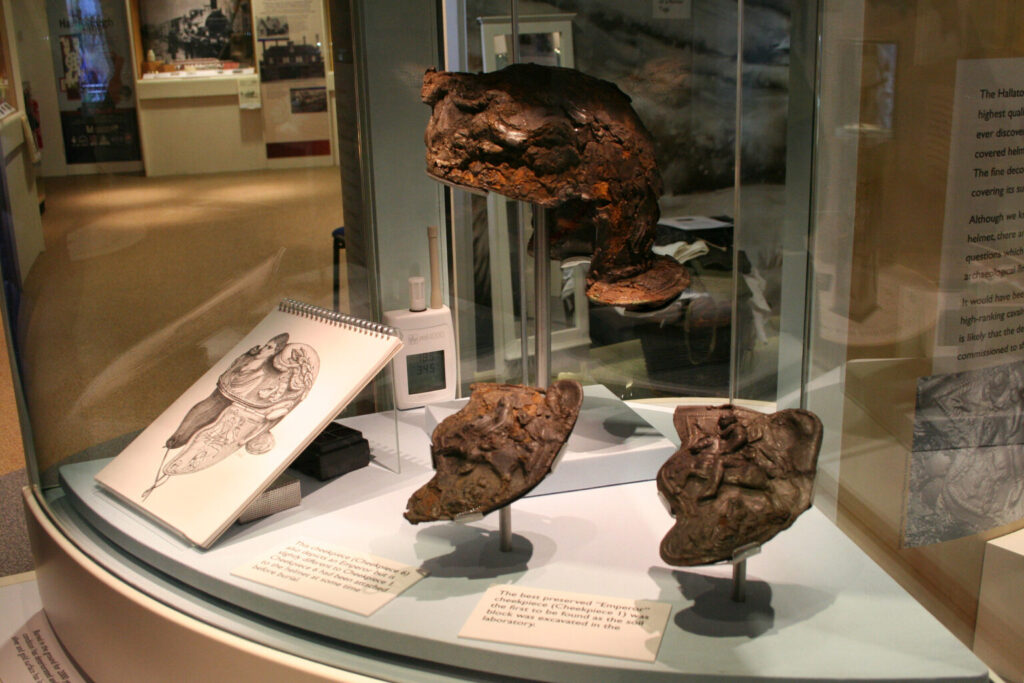 It was taken to the British Museum in London for conservation, which took nine years of work by conservator Marilyn Hockey and her colleagues Fleur Shearman and Duygu Çamurcuoğlu.
Corrosion and the effects of time had shattered the helmet into thousands of pieces, most of which were smaller than the nail on a person's little finger. The reconstructed and conserved helmet was unveiled in January 2012.
Leicester County Council was able to raise £1 million to buy the entire hoard and pay for the conservation of the helmet, with the assistance of donations from the Heritage Lottery Fund (which gave a £650,000 grant), the Art Fund and other trusts and charities.
The helmet was valued at £300,000; under the terms of the Treasure Act, Ken Wallace and the landowner were each awarded £150,000.
The helmet was put on permanent public display at the end of January 2012 at the Harborough Museum in Market Harborough, nine miles from the site where the hoard was found, alongside other objects found at Hallaton.